-->
-->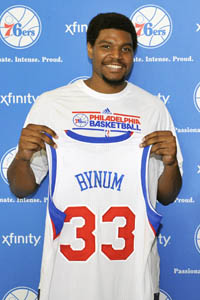 Source : Yahoo Sports
PHILADELPHIA (AP) -- Andrew Bynum's debut with the Philadelphia 76ers is on hold again.
General manager Tony DiLeo said Saturday that Bynum is out indefinitely and there's no timetable set for his first game. The All-Star center was acquired from the Los Angeles Lakers in a four-team trade before the season.
''We don't know when he'll be back,'' DiLeo said. ''Only Andrew's body can answer that question. When he feels better, we can step up the rehab program. We just have to wait to see how he reacts to the rehab.''
Bynum had been recovering from a bone bruise on his right knee and the Sixers were hoping he would be cleared to return to basketball activities by Dec. 10. But he injured his left knee while bowling two weeks ago and now his return has been pushed back four times since the beginning of training camp.
''I want to emphasize that we have been forthcoming and consistent with the information,'' DiLeo said. ''We've said all along that we need some patience and that this is a hard-to-predict healing process. Andrew, how his body reacts is the indicator in how and when he can take the next step in his rehab program.''
DiLeo said Bynum has ''bilateral bone bruises and a weakened cartilage state'' in his knees. Still, DiLeo defended the trade that sent All-Star forward Andre Iguodala to Denver in the multi-team deal. The Sixers are 7-5 in their first 12 games, entering Saturday night's matchup against Oklahoma City.
''We want to put this behind us now and focus on the rest of our team,'' DiLeo said. ''We don't know when he's coming back, but we have a good team out there. We have a great coaching staff that's doing a great job. We're playing hard every night and we just want to focus on the team going forward.''
Bynum, 25, is in the final year of his contract and could sign a five-year deal worth more than $100 million in the offseason, if he's healthy. But his uncertain status could be costing the 7-footer millions.
''We are in charge of his rehab and right now he's just doing low-impact rehab things,'' DiLeo said. ''We are doing everything possible, leaving no stone unturned in consulting with the best experts in the world. We're looking into his rehab program, talking to doctors. We're doing everything possible to get him back on the court because we want to see that and our fans want to see that.''
Bynum won two NBA titles in seven seasons with the Lakers. The Sixers were hoping he could help them become one of the league's elite teams.
DOCTORS TELL BRANDON ROY TO RETIRE
Source : Elite Daily
While on the Blazers, Roy was an absolute force, and getting better by the day. It was only a few years ago that Brandon Roy was averaging 23 points, 5 rebounds, and 5 assists for Portland.
Now, he can't stay on the court.
This offseason, Roy announced that he would attempt a comeback to the NBA. The Timberwolves, needing depth on the wing, took a gamble. He only played 5 games this season until requiring yet another knee surgery. His knees are so bad that he has been told by multiple doctors to retire for good, according to Oregon Live:
Not just one doctor, but multiple doctors have told Roy that he should stop playing basketball. His knees are getting worse by the day. By now, at 28, he has had so many surgeries, so many treatments and seen so many doctors, he sounds like a specialist. He explains that he has degenerative arthritis, which erodes and eventually eliminates cartilage, with the same precision and ease that came to define his run of three consecutive All-Star appearances. And with the calm that made him one of the game's best finishers, he explains that his knees have reached Level III arthritis. There are only four stages.
"Level IV," Roy says fearlessly, "is when you get a knee replacement."
This is something that nobody wants to hear. Brandon Roy had such a bright future not too long ago, and now he is walking the line of risking his long-term well-being. It's tough to see someone so passionate and so good at what they do be forced out of the game by a health problem.
Roy's story is what helps me have zero sympathy toward Andrew Bynum, someone who has injury issues, but then decides to go bowling on a bad knee.
Hopefully Roy can get the whole thing straightened out and finish the game on his own terms, whenever that might be.