-->
-->
Source : NBA.com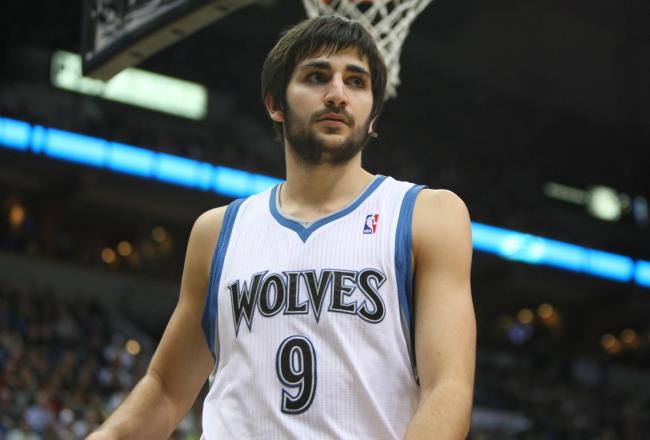 Ricky Rubio is back on the practice court with the rest of the Minnesota Timberwolves.
It's still going to be a while before he can join them in games, but just seeing their dynamic point guard inching closer to a return is one of the first health positives this injury-plagued team has seen this season. Rubio has started to do some light five-on-none work in practice for the Timberwolves, another encouraging sign in his long rehabilitation from a torn ACL in his left knee.
Kevin Love, who has yet to play this season because of a broken right hand, also joined in the instructional portions of practice on Sunday. It was a sign that help is on the way for a team that has played the last three games with just nine players, even if it doesn't come until next month.
"Just having them five-on-(none) gives you a sense that when you get them back we'll be pretty good," coach Rick Adelman said after practice. "We can't wait for them. We have to go out there and play. But it gives us a sense."
Love is expected back at the start of December, while Rubio is hopeful to return to game action sometime in the middle of next month.
Rubio was injured in a game against the Lakers on March 9. Losing him coincided with several other injuries to turn a promising season south in a hurry, and the bad luck has followed the Wolves into this season. Love broke his hand less than two weeks before opening night. Chase Budinger is out three to four months after having surgery on his left knee and Nikola Pekovic (sprained left ankle), J.J. Barea (sprained left foot) and Brandon Roy (sore right knee) have all suffered injuries that the Wolves are hopeful have much shorter recovery times since the season began.
D'Antoni delays bench debut
LOS ANGELES (AP) -- Mike D'Antoni postponed his debut on the Los Angeles Lakers' bench for at least another game Sunday night, giving the coach a few more days to recover from recent knee replacement surgery.
D'Antoni tentatively planned to take over when the Lakers hosted Houston, exactly a week after the Lakers hired him to replace Mike Brown. Instead, Lakers trainer Gary Vitti and D'Antoni's wife persuaded him to wait until he can move around a bit better on his new knee.
"I'm anxious to get out there and ready to go, but I don't want to be a sideshow," D'Antoni said.
Interim coach Bernie Bickerstaff led the Lakers against the Rockets. The Lakers went 3-1 in their first week under Bickerstaff, and D'Antoni announced he'll keep the veteran coach on his staff.
D'Antoni has been getting around without crutches for short distances since he arrived in Los Angeles last week, but the 61-year-old former Knicks and Suns coach isn't his usual spry self yet. He has attended two workouts with the Lakers, circling the court on crutches and sitting down whenever possible, but finally had to acknowledge he would have trouble on an NBA bench.
"My wife said, `Why are you doing this?"' D'Antoni said. "And I kept being headstrong. (Vitti) kind of sat me down and said, `Mike, this is crazy. Somebody comes over, you're going to be bowled over. You're a sitting duck.'
"And I know my coaches aren't real nimble, so there's no way they're protecting me. They're hitting the streets. It was the smart thing to do."
The Lakers formally announced they had hired Dan D'Antoni, the head coach's older brother, as an assistant coach before Sunday's game. Mike D'Antoni also said he plans to keep Bickerstaff, the longtime NBA coach and executive who joined Brown's staff in September.
"Bernie is a great coach and good guy," D'Antoni said. "I've known him forever. It just means the world. He does a super job. ... He's (on the staff permanently), yeah. Unless he loses tonight."