-->
-->
Source : ESPN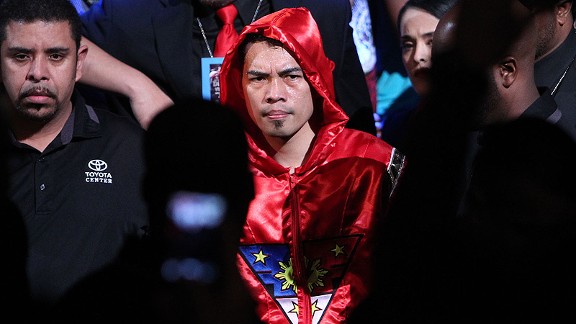 Photo by Top Rank
It might sound strange, but no, Manny Pacquiao was not the best fighter from the Philippines in 2012. That honor goes to "The Filipino Flash," junior featherweight titlist Nonito Donaire, who had a year for the ages.
Donaire (31-1, 20 KOs) began the year having vacated his bantamweight belts and preparing to move up to junior featherweight. Four fights later, in an exceptionally busy year by modern standards for an elite champion, the quick-fisted and powerful Donaire stands atop the 122-pound division and was the easy pick for 2012 ESPN.com Boxer of the Year.
And then, given the opportunity for a rare fourth fight in a year, Donaire, despite a bad left hand that had given him problems all year, squared off with former titlist Jorge Arce of Mexico. The result was Donaire's best showing of 2012: He dropped Arce in the second round, then twice more in the third, including landing a pulverizing left hook to the chin that knocked the challenger out cold.
Donaire, 30, easily handled the move up in weight, winning all four of his fights in dominant fashion. He dropped each of his foes -- scoring seven knockdowns in all -- won twice by knockout and collected two world titles. Add to that his trailblazing approach to drug testing: He is the only fighter in the world who has signed on with the Voluntary Anti-Doping Association for random urine and blood testing 24 hours a day, seven days a week, 365 days a year. This in an era when every great performance unfortunately comes under the suspicion of possible performance-enhancing drug use -- except, of course, Donaire's.
His attitude is refreshing.
"I don't mind it. I think it's a good for the sport and I am going to do it," Donaire said. "It's a good idea. I have nothing to hide. I would love for all fighters to follow me, but not everybody is like me."
In February, Donaire moved up in weight to face former titleholder Wilfredo Vazquez Jr. of Puerto Rico. He dropped Vazquez in the ninth round and rolled to a decision to win a vacant title.
In July, Donaire faced South Africa's Jeffrey Mathebula and dropped him in the fourth round, broke his jaw and won a lopsided decision to unify two belts.
Donaire vacated one of the titles but returned in October to face well-respected former titleholder Toshiaki Nishioka of Japan, who didn't have a title only because he had relinquished it. Donaire scored knockdowns in the sixth and ninth rounds en route to a lopsided ninth-round knockout.
It was the exclamation point on a year in which Donaire seized the mantle from Pacquiao, his idol, as the Philippines' best boxer and continued to assert himself as one of the best fighters in the world, period.
And you know what's scary?
After drilling Arce, Donaire said, "I believe I am still getting better."
Rafael's boxers of the year
2012: Nonito Donaire
2011: Andre Ward
2010: Sergio Martinez
2009: Manny Pacquiao
2008: Manny Pacquiao
2007: Floyd Mayweather Jr.
2006: Manny Pacquiao
2005: Ricky Hatton
2004: Glen Johnson
2003: James Toney
2002: Vernon Forrest
2001: Bernard Hopkins
2000: Felix Trinidad