Source : ABS CBN Sports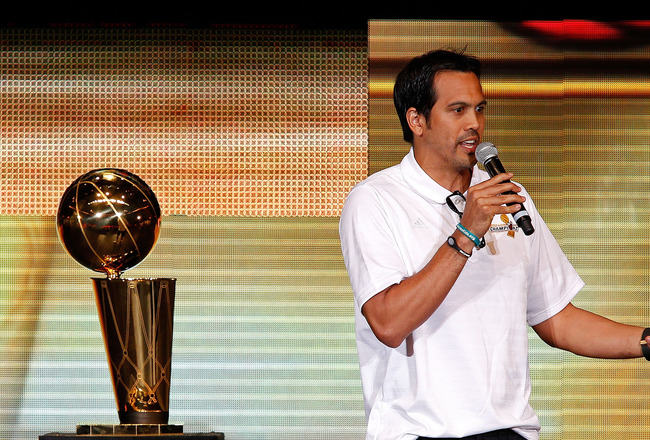 MANILA, Philippines – Miami's Filipino-American head coach Erik Spoelstra hopes Sarangani Representative and boxing icon Manny "Pacman" Pacquiao is now a fan of the Heat, following their historic victory in the 2012 NBA Finals.
Pacquiao is an avid fan of the Boston Celtics, one of the Heat's hated rivals in the NBA.
In an interview with ABS-CBN's TJ Manotoc, Spoelstra said he hopes that Miami have "won (Pacquiao) over."
"Hopefully, he's a Miami Heat fan now," he added.
The Heat defeated the Celtics in a hard-fought seven game series in the Eastern Conference Finals before beating the Oklahoma City Thunder in five games in the NBA Finals.
Game 7 of the Miami-Boston series coincided with Pacquiao's match against Timothy Bradley Jr. When informed that the Filipino champion was a Celtic fan, Spoelstra said he "may have to root for Bradley."
"But after the fight, I said, hey, we have to forgive him as well," Spoelstra said, jokingly. "He''an incredible champion."
The members of the team were huge fans of Pacquiao before their series against the Celtics, Spoelstra added.
"We won't hold it against him now, since we beat them," he said.
Following their victory in Game 5 of the Finals, Spoelstra was asked why he often used boxing analogies to describe his team.
"Everyone knows I'm a huge Manny Pacquiao fan," the Fil-Am coach explained.
Spoelstra also compared his team's journey to the NBA title to a boxing match, noting that the Heat have been knocked down many times but continuously got up and fought on.
Pacquiao, for his part, has said that "it's okay" for him that the Heat won the title, even if it came at the expense of the Celtics.
"Congratulations to them that they made it," he said.