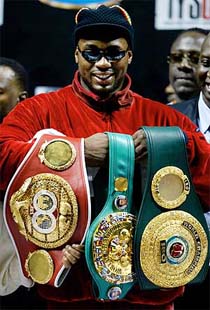 Source : ABS CBN Sports

LONDON -- Five of the 9 Olympic medals won by the Philippines over the years has come from boxing.

Despite being its strongest Olympic sport, the country only has one bet for the 2012 Games.



Nineteen-year-old Mark Anthony Barriga, competing at light-flyweight, is considered as the Philippines' main hope of landing a medal this year.
Some say the lack of Pinoy boxers in the London Games is partly down to fighters skipping the amateurs ranks in the hope of landing a professional contract.
"They don't want to be amateur because there is simply no money in it," said former North Cotobato governor Manny Pinol in an interview with Reuters.
Despite landing a bronze medal himself at the 1996 Atlanta Games, WBA (World Boxing Association) Light Middleweight champion Floyd "Money" Mayweather Junior agrees.
The unbeaten American recently told United States Olympic boxer Rau'Shee Warren that Olympic "medals don't pay bills."
However, retired British-Canadian ring legend Lennox Lewis thinks otherwise.
The former undisputed world heavyweight champion won a gold medal at the 1988 Seoul Olympics before carving out a successful professional career.
The 6-foot-5 Londoner, who has beaten the likes of Mike Tyson, Evander Holyfield and Vitali Klitschko, believes the Olympics provide an important foundation for young boxers.
During a press conference in London on May 25, ABS-CBN Europe spoke to Lewis about the Philippines' current amateur boxing drought. He discouraged fighters from taking the short route in search of riches.
"I wouldn't say to go pro quick. I would say to really try and win the Olympics, because that's a gold medal into the professionals."
Lewis said success at the Olympics will propel fighters into the spotlight and improve their chances of earning big money in the future.
"Once you win a gold medal in the Olympics, all the promoters are going to come at you and say ok, I'll give you this amount of money," he said.
"But if you didn't win anything they'll go, come and turn pro with me and won't give you no money," he added. "So, it's better to win the amateur top gold, which is gold at the Olympics, and then turn pro."
Lewis, also known as "The Lion," retired in 2004 with a record of 41 wins, 2 losses, and 1 draw.
Other fighters who have enjoyed success at Olympic level before making a name for themselves in the professional arena are Muhammad Ali, Sugar Ray Leonard, Joe Frazier and Oscar De La Hoya.