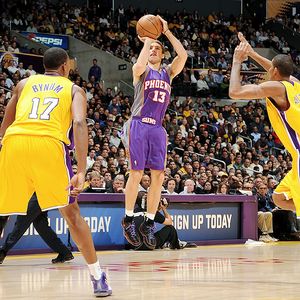 Source : Sekou Smith NBA.com
HANG TIME HEADQUARTERS – The free agent class of 2012 took a major hit when Dwight Howard decided to stick around in Orlando for at least another year.
That doesn't mean things won't get interesting in July, though. In fact, things could get heat up considerably if a couple of the veteran guards that will be available market themselves to a certain outfit in Miami that is seeking some scoring and backcourt firepower to aid their championship cause.
Both Steve Nash and Jason Terry spoke on it Thursday, making it clear that all of their options will remain open in free agency. Nash was on the "Dan Patrick Show" and didn't rule out anything, a return to Phoenix, being reunited with Dirk Nowitzki in Dallas or taking a call from the LeBron James and the Heat, if they are interested:
"I would listen," Nash said. "He's phenomenal. I love what they're doing there. A lot of people don't like them because they put all that talent there. But they're professional, they play hard, they play together. Their coaching staff has done a great job, so I have a tremendous amount of respect for them.
"I would definitely listen."
Nash talking Miami in free agency isn't that surprising. He's going to be on most every title contender's call list this summer. But Terry talking about Miami, after the way he went after the Heat (on and off the court) in The Finals last season, is a bit of a surprise.
He told Fox Sports Florida that the Heat would have to a consideration for obvious reasons:
"(Team president) Pat Riley is a great guy and what he's done with the organization is tremendous. "No question, they need a veteran shooter, a guy who can score besides LeBron (James) and (Dwyane Wade), and they know they can count on. I'm a guy that's been in this league 13 years, (averaging) 15 points a night, easy. Off the bench or the starting lineup, it doesn't matter. So I think I'd be an asset to them."