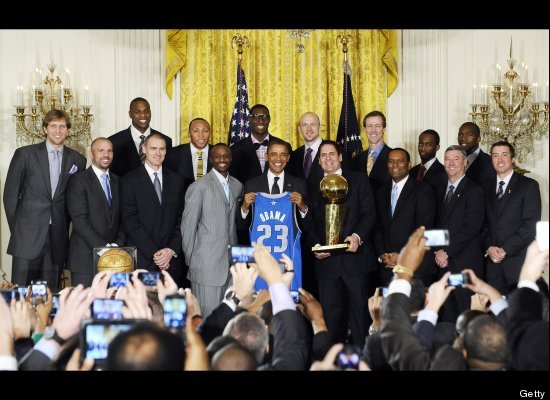 Source : MARK S. SMITH, Associated Press
WASHINGTON (AP)—President Barack Obama saluted Dirk Nowitzki and the Dallas Mavericks on Monday as NBA champions who staged a season-ending charge to beat LeBron James and the vaunted Miami Heat and claim their first title with a "heart that's the size of Texas."
"This was a remarkable run, a great victory," Obama declared, as owner Mark Cuban and Mavericks stars, including series MVP Nowitzki, looked on. "It's too bad that next year, it'll be the Chicago Bulls here."
The first basketball fan—a passionate supporter of his hometown Bulls— was nonetheless lavish in praising the Mavericks, who beat the Heat in six games last June.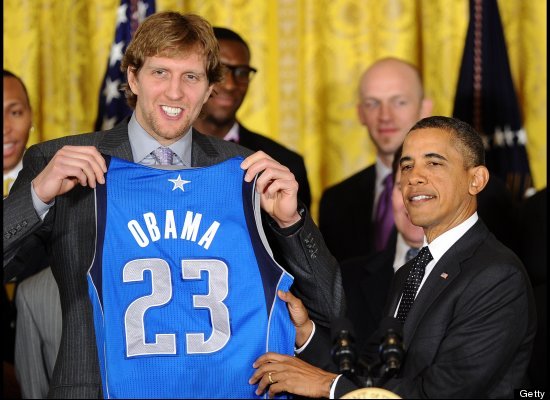 "They know how good teams win," Obama said. "Not just by jumping higher or running faster, but by finding the open man, working together, staying mentally tough, being supportive of each other, playing smarter."
He said that's how Dallas "took down some of the league's best teams … including the Miami Heat, who got a little bit of attention last year."
The victory was sweet revenge for Dallas after it blew an NBA finals lead to the Heat five years earlier. It also upended the hope of Heat superstars James, Dwyane Wade and Chris Bosh for a championship in their first year playing together.
Monday's ceremony reflected both the league's current, lockout-shortened season and the determination of the colorful Cuban to make it happen. Typically, White House visits take place when a championship team plays in Washington. With such a short season, the Mavericks aren't here this year. Cuban insisted on the ceremony anyhow.
"It's tough to say no to Mark Cuban," Obama said, to knowing laughter from his players.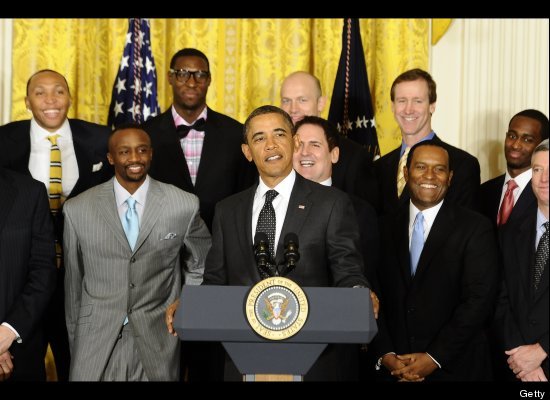 Obama singled out the German-born Nowitzki, noting he played in the finals despite a painful finger injury and fever. "Clearly Dirk is a tough guy, although the most painful thing may have been his rendition of `We Are the Champions' during the victory celebrations," the president said.
Mavericks guard Delonte West did not attend the event in the East Room, even though the Secret Service said he had been cleared along with his teammates.
West pleaded guilty to weapons possession charges after a September 2009 traffic stop in suburban Maryland. He told The Fort Worth Star-Telegram that he was "banned" from the White House on Monday because of the weapons charges, but Secret Service spokesman Ed Donovan said in fact West could have taken part. A team spokeswoman, Sarah Melton, also said West was not banned from the White House ceremony but declined to comment on why he didn't attend.
West was not a member of the championship squad but joined the Mavericks prior to this season.
DALLAS RECALLS YI FROM D-LEAGUE
DALLAS (AP)—The Dallas Mavericks have recalled 7-foot forward Yi Jianlian from their D-League team.
Yi was scheduled to join the Mavericks in time for their game Tuesday night at Detroit.
Yi signed a free agent contract with the Mavericks on Friday, and was then assigned to the Texas Legends. Yi averaged 23 points, 12 rebounds and two blocks in two games with the Legends.
The former Chinese Basketball Association standout was picked sixth overall by Milwaukee in the 2007 NBA draft.
In 242 NBA games for the Bucks (2007-08), New Jersey (2008-10) and Washington (2010-11), Yi has averaged 8.5 points and 5.3 rebounds a game. His best NBA season came for the Nets in 2009-10, when he averaged 12 points and 7.2 rebounds in 52 games.