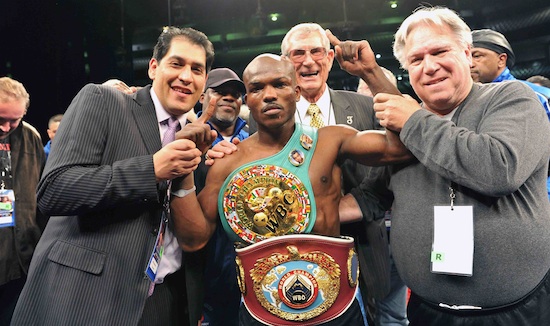 Source : ABS-CBNnews.com
MANILA, Philippines – Undefeated junior welterweight champion Timothy Bradley Jr. is now the most likely opponent for Filipino boxing icon Manny "Pacman" Pacquiao when he returns to the ring on June 9.
This, according to Pacquiao and Bradley's promoter, Top Rank chief executive officer Bob Arum.
"Does it look closer to being Bradley? It looks closer to being Bradley, obviously, by the process of elimination," Arum said in an interview with RingTV.com.
Bradley was among the four boxers shortlisted for a potential bout against Pacquiao, along with Juan Manuel Marquez, Lamont Peterson and Miguel Cotto.
But Marquez is seeking a March fight in his native Mexico City, Peterson has been ordered to give a rematch to British boxer Amir Khan, and Cotto has refused to fight Pacquiao at the welterweight limit of 147-pounds.
Arum is not counting Cotto out of the equation, however.
"What happens if Miguel Cotto comes back and says, 'Okay, I'll make the weight?' That opens up another possibility," Arum said.
"But right now, he's saying that he wouldn't."
What Arum is sure of is that a May 5 bout against undefeated boxer Floyd Mayweather Jr. is out of the question.
"Floyd is out of the picture for May. He put himself out of the picture for May," Arum said. "Any discussion with Floyd was over when he said he wouldn't go for the 50-50 split."
Mayweather is also seeking a potential May 5 against Cotto. The American boxer has said that he is willing to fight at a 150-pound catchweight.